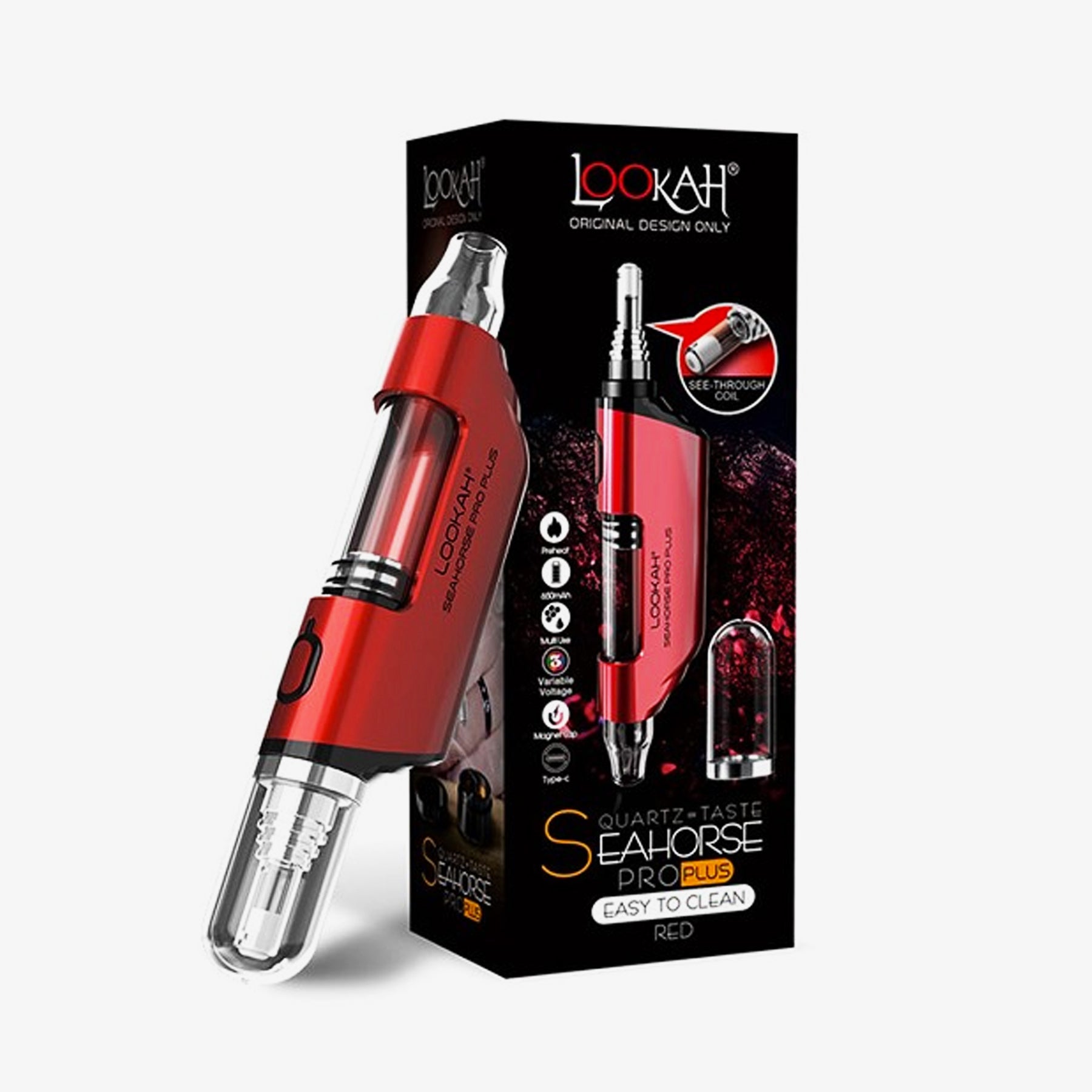 Lookah Seahorse Pro Plus Pen - Red
**To ensure the tips last as long as possible, make sure you burn all the concentrates off the tip after each use. 

If you allow concentrates to build up on the tip or inside the airways, it can harden and possibly ruin or wear out the tips prematurely. **
**Don't clean the Seahorse tips with the cleaning brush or any liquids/solvents, as this can damage the tip.**
Lookah's Seahorse Pro Plus nectar collector takes the evolution of the popular Seahorse dab pen to the next level. The aesthetics and design are in keeping with the Seahorse Pro. The distinctive glass mouthpiece is removable for easy cleaning. The standard coil cap now has a magnetic connection, so it's more convenient and won't work loose or fall off.
The Seahorse Pro Plus vape pen comes with a new type of tip: an improved, more durable porous quartz tip. This features a clear glass surround to see the vapor from when it vaporizes from wax on the tip right the way through the mouthpiece. 
The battery is 650mAh which should see you through 10 to 15 dabs (depending on the mode and temperature settings) for each full charge. When it comes to charging, the Seahorse Pro Plus has a type C USB port, so there is no faffing with getting the cable the right way around.
 
The Pro Plus nectar collector is compatible with all the 510 thread Lookah seahorse tips. You can check out the quartz tips (SKU: SCI-QZ),  the ceramic tips (SKU:SCII-CK), the ceramic tube tips (SKU: SCIII-QT), and the quartz transparent tube tips (SKU: SCV-QZ) on the dab pen and wax pen subcategory page of our website.  
How to use the Seahorse Pro Plus
The Seahorse Pro Plus features a manual mode and a session mode.
Turn on the Pro Plus dab pen by pressing the power button 5 times quickly. 
Press the power button twice quickly to switch between the three voltage settings. 
Each voltage setting is indicated by a different color light around the power button. 
Mode 1: 3.2V (Blue)
Mode 2: 3.6V (Purple)
Mode 3: 4.1V (White)
Once the desired temperature is selected, you can press and hold the power button to heat the tip. After a few seconds, start dabbing in manual mode.
The session mode is activated by pressing the power button three (3) times quickly. The vaporizer pen enters a 15-second pre-heat indicated by a flashing light. After it will hold the set temperature for 30 seconds, enough time for an intense dab session.
You can use the seahorse pro plus dab pen with a water pipe by connecting one end of the green hose and adapter (included) to the end of the mouthpiece and the other to the downstem of a water pipe.
Two accessories packs for the Seahorse Pro Plus (sold separately) will be available. A stand for the device and also a water bubbler accessory pack that replaces the glass mouthpiece and offers cooler water-filtered dabs. 

Kit comes with:

1 Seahorse Pro Plus
1 Magnetic Tip/Coil Cover
1 Connection Hose
1 14/18mm Adapter
1 User Manual
1 Cleaning Brush
1 USB Type-C Cable
1 Type 5 Seahorse Coil

Specifications/Features
1) Battery: 650mAh
2) Fast heating up & new coil Compatibility
3) Easy to Clean
4) Portable and durable 
5) Easy connect type C USB port
6) Compatible with many 510 oil cartridges